Aluminum Alloy Food Drying Kiln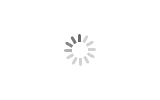 Aluminum Alloy Food Drying Kiln
Chiqin

China

One month after receiving the money

30 sets per month
Good heat preservation and moisturizing is more conducive to the adjustment of food drying process, greatly improving the drying uniformity and drying quality of food, and reducing labor management costs. According to the food drying technology and customer requirements, our company designs and configures the over-temperature and over-drying alarm function, which can avoid the problems of over-burning, over-drying and over-hardening of food during the drying process caused by human or mechanical reasons.
Features:
1. Most of the hot air circulates in the kiln, high thermal efficiency, saving energy.

2. Use the forced ventilation effect,adjustable points of boards in kiln, material dry kiln.

3. The heat source is steam or hot water.

4. The noise is small, smooth operation. The temperature can be automatic control, easy installation and maintenance.

5. Wide application for various materials,.It's the general drying equipment.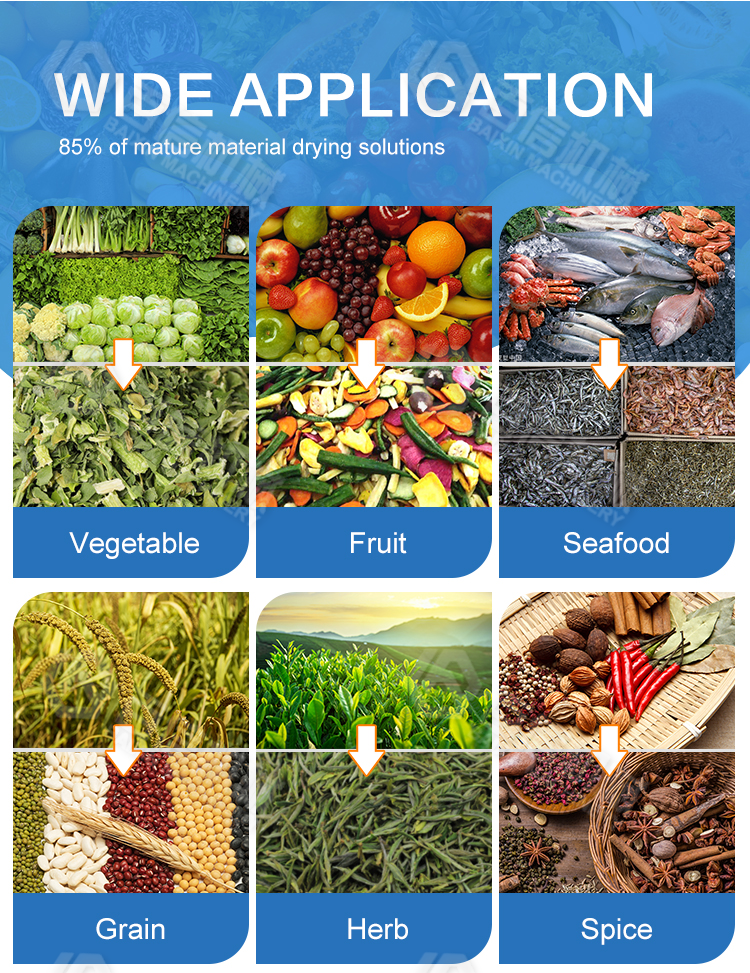 Applications:

1.Drying Marine Fish:The heat pump dryer can generate both Hot air or Cool Air to dry different fish.In some cases, it need stimulate the cool and dry weather to dry marine fish with lots of fat. It can dry Sea Cucumber,Abalone,Cat Fish, Cod Fish, Salmon, Squid Fish, Cuttle Fish, Fish Maws, Perch fish, Conch Slice, African Crucian, Anchovy Fish, Smoked Fish and Shrimp.
2.Drying Cured Meat:The heat pump dryer can dry all kinds of cured meat like Sausage, Ham, Dried Pork, Beef Jerky,Bacon,Salami,Dried Chicken, Pet food and any other kinds of Preserve Meat.
3.Drying Fruit :The heat pump dryer is prefect drying machine for fruit such as Mango Slice, Date, Plum, Lemon, Raisin, Longan, Litchi,Blue Berry, Mulberry, Apple Slice, Persimmon, Kiwi Slice, Papaya, Pitaya fruit and etc.
4.Drying Mushroom :The mushroom can be extend its sales period and added its sales value by drying into dried ones using heat pump dryer. The heat pump drying machine can dry Shitake,Enokitake,Shimeji, Wood Ear, Fungus, Straw Mushroom and Mushroom of Tea.
5.Drying Nuts:The heat pump dryer almost can dry all kinds of nuts in the world like Walnut, Almond, Hazelnut, Cashew,Moringa Seed,Camellia Oil Seed,Peanut, Pistachio, Apricots, Pine Nut, Macadamia, Chestnut and etc.
6.Drying Herb and Agriculture Product:The heat pump dryer is ideal drying solution basic on its drying cost advantage compared with eletric heater. It can dry herb products with very good drying cost including Moringa Leaf, Vegetable, Ginseng, Ginger, Goji Berry, Yam, Rose, Black Tea, White Tea Product, Puer Tea, Tobacco,Black Pepper, Red Chilli, Cassava, Starch, Pitaya flower and most of kinds of Herb.
7.Drying Food: Noodle, Rice Noodle,Pet Food, Gelatin, Bone and Bone Residue.
8. The drying application in Industrial Field:The heat pump dryer can also dry many industrial material like Inscene Stick, Mosquito Incense,Wood,Paper Tube,Paint Drying,Water-based Paint Drying.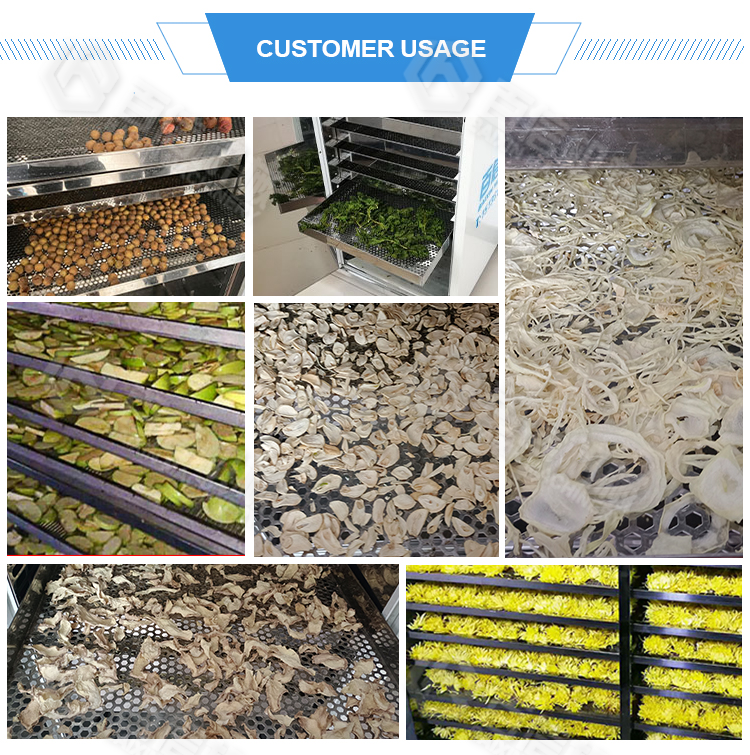 ‍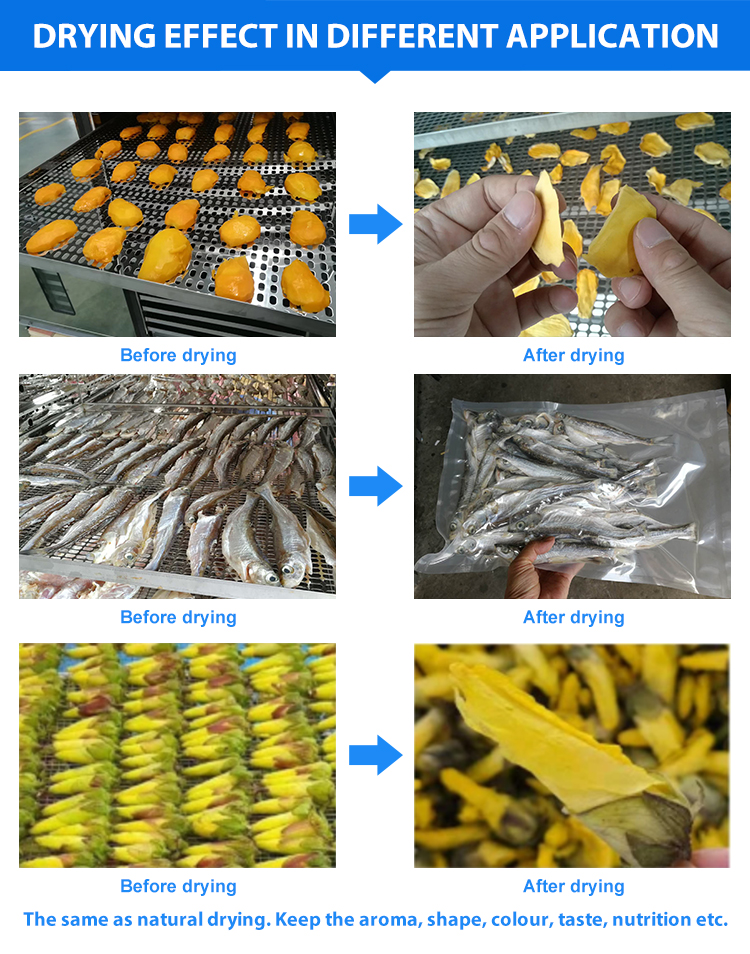 Main Feature
1, Energy saving
Adopt heat pump technology, absorb heat from air and recovery waste heat at the same time
Adopt close dehumidify + circulating drying type, saving operating cost;
2, Exact control temperature and humidity
The drying temperature can be easily controlled by PLC +Touch Screen control system.
3, Uniform drying
By using the forced ventilation function, there are partition sheet and fan motors inside the drying chamber to make sure hot air cycle, so the raw materials can be dried evenly.
4, The temperature: 10-75°C, Max 75°C, similar nature drying.
5, The baking plate dimensions and materials can customize as customer request.
6, Good drying quality.
During drying, the material does not craze, does not distortions, non-discoloring, never degenerate, non-oxidize, drying
completely, with good rehydration, keep nutrient content;
7, Safe and reliable operation
Automatic intelligent control, 24-hour continuous drying; Without waste gas and waste heat pollution,low noise
‍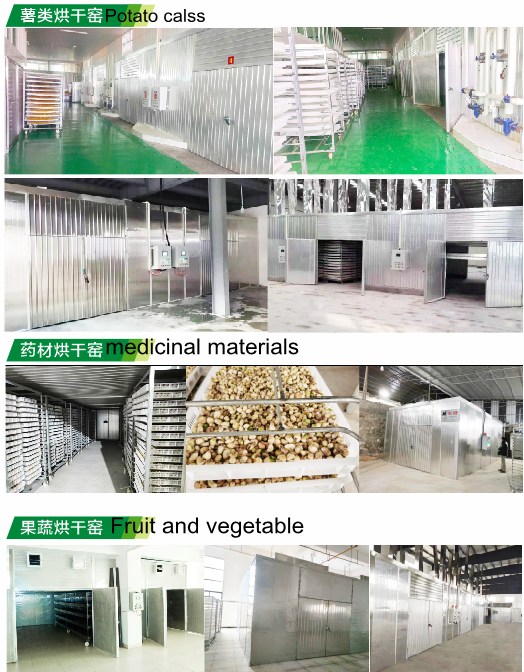 After sales services:
Our machine is installed and tested well before delivery. You can operation the machine immediately after received machine.
If you don't know how to use the machine,we will offer you free training until you can use machine freely.And If there is still have any question, please contact us by Email, Skype, Phone any time you need.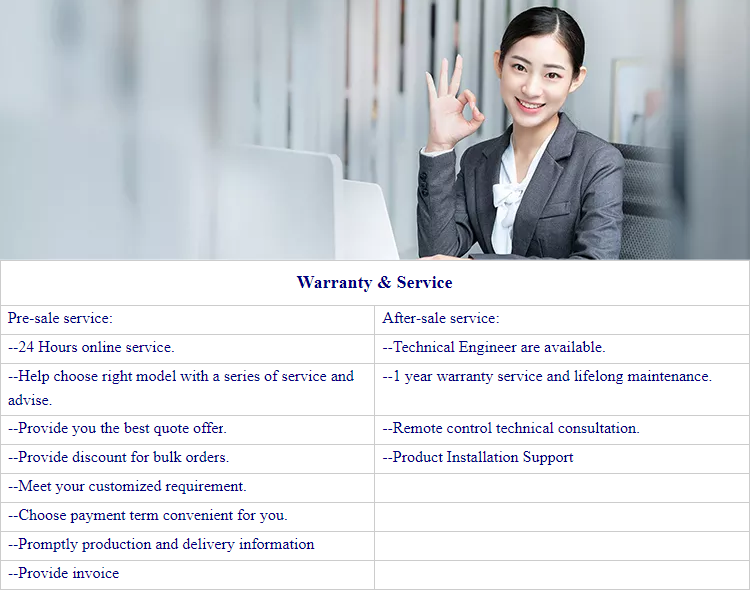 Patent and certificate: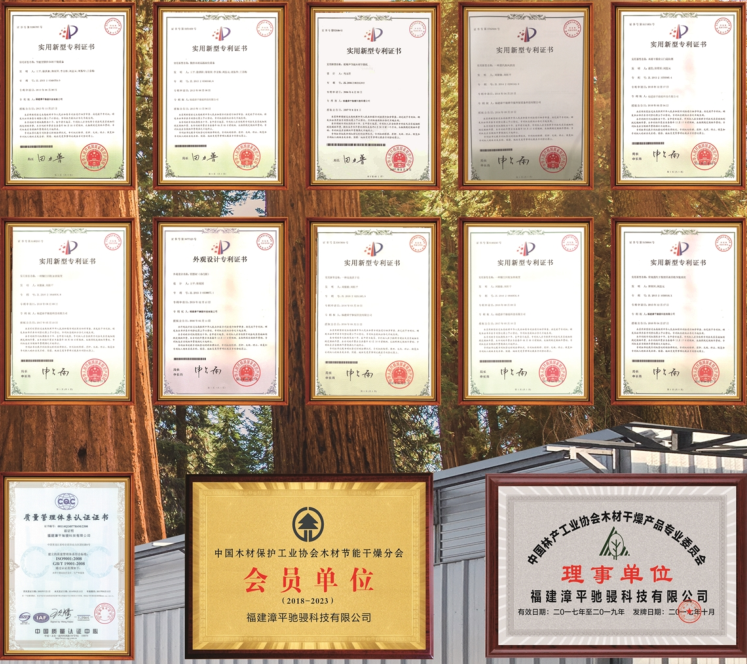 Most commercial timber can be dried as designed, such as as ash, pine, larch, birch, beech, elm, maple, oak or high moisture content wood. Users of wood drying kilns include housing constructions, furniture manufacturers, decking and flooring manufacturers, and other woodworking factories and companies for solid cloth hanger, wood photo frames.
...more