Radiata Pine Drying Kiln Drying Chamber For Wood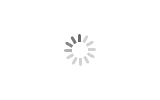 Radiata Pine Drying Kiln Drying Chamber For Wood
Chiqin

China

One month after receiving the money

30 sets per month
Radiata pine wood is a high-quality soft wood with medium density, uniform structure, average shrinkage efficiency and strong stability. Intact logs are free from rot, heart rot and bug bites. The wood has good nail holding power, strong permeability, and is easy to be treated such as anti-corrosion, drying, curing and coloring. Radiata pine wood has a wide range of uses, which is unmatched by other conifer species.
Radiata Pine Drying Kiln Drying Chamber For Wood
ChiQin Radiata Pine Drying Kiln Drying Chamber For Wood usually includes the following parts: kiln body, circulation equipment, heating and spray steam system, dehumidification equipment, control and testing equipment. The use of some imported parts can improve work efficiency, such as imported electric valves, which can accurately adjust the temperature, control the amount of steam, and avoid energy waste.
Advantage:
1. Low energy consumption. High thermal efficiency and low power consumption;
2. Less investment. Using wood processing residues as fuel, the drying cost is low;
3. It is convenient to adjust humidity, and the effect of heat and humidity treatment is good. The air circulation is uniform, and the drying quality of the wood is better;
4. Simple operation, easy maintenance;
5. Light weight, movable, mold fast. Easy to install and debug.
Guarantee:
The equipment is guaranteed for one year.
1.We provide free spare parts and maintenance service if there is problem with the equipment in one year.
2.You need to pay for the spare parts and necessary maintenance service when there is problem with the equipment after one year.
3.Our company provides necessary wood drying technology and special technical service to meet the requirements of customers.
After-sale Services:
Our company is in charge of the installation and debugging of the equipment.Our technical workers will finish it until all the equipment runs properly.
Main Features:
1, the kiln uses all aluminum plates, beautiful, anti-corrosion, zero loss of thermal energy.
2, no ferrous metal in the kiln, prolong the service life of the kiln, reduce the overall cost, improve the practical efficiency.
3, easy to install
4, easy to use, daytime firewood, trim, scrap, scrap, sawdust, shavings can reduce costs, electric heating at night, safe and convenient, but also fully automatic control.
5, concentrated on the many advantages of fuel-wood, electric heating.
6, in order to achieve environmental protection, dust removal devices can be installed according to customer needs, and the smoke can be removed to remove harmful substances to meet emission standards.
7, the amount of loading can be divided into 40 cubic meters, 50 cubic meters, up to 200 cubic meters, can also be designed according to the actual needs of customers for your equipment.
Related parameters:
| | |
| --- | --- |
| Type | wood drying Kiln |
| Heating Methods | wood heating ,gas heating ,electricty heating |
| Power | 10kw-57kw |
| Shape | container style |
| Capacity | 30-200 cubic meter |
| Heating wood thickness | 5cm-10cm |
| Certification | CE/ISO |
| Weight | 1000kg |
| Power supply | 220V/380V/415V 3 PHASE 50~60HZ |
This is the main technical parameters of the wood drying kilns available: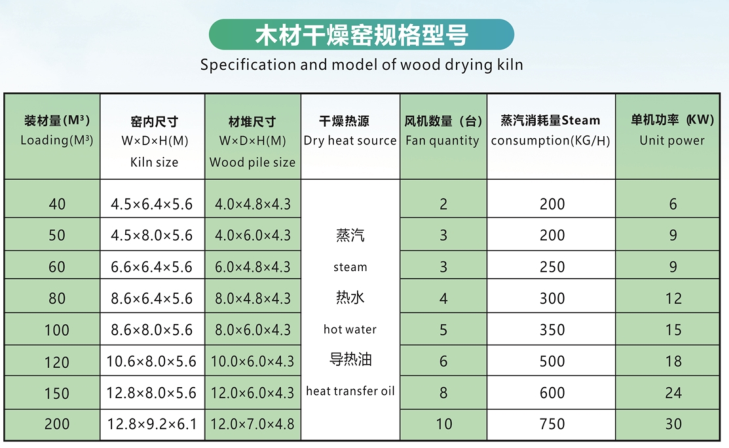 Kiln Control System
The kiln control system is divided into two types:semi-automatic control system and automatic control system according to the needs of users.They change the temperature and humudity of the kiln by instrument display and control valve.
The temperature is controlled by the change in the amount of vapor sne to the radiator,and the control of humidity is finished by spraying or wetting.The timing reversal of the fan can be achieved by changing the phase sequence of the three-phase power supply of the drag motor.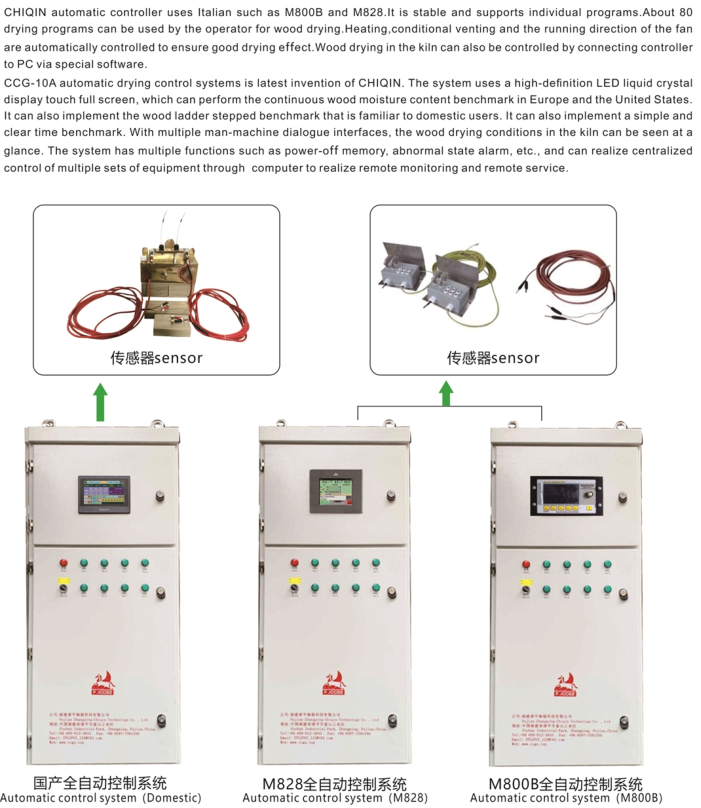 Heating System
The heating system is composed of electromagnetic heating valve.
The heating system can meet different drying requirements from medium-low temperature schedule to medium-high temperature schedule with its strong heating power.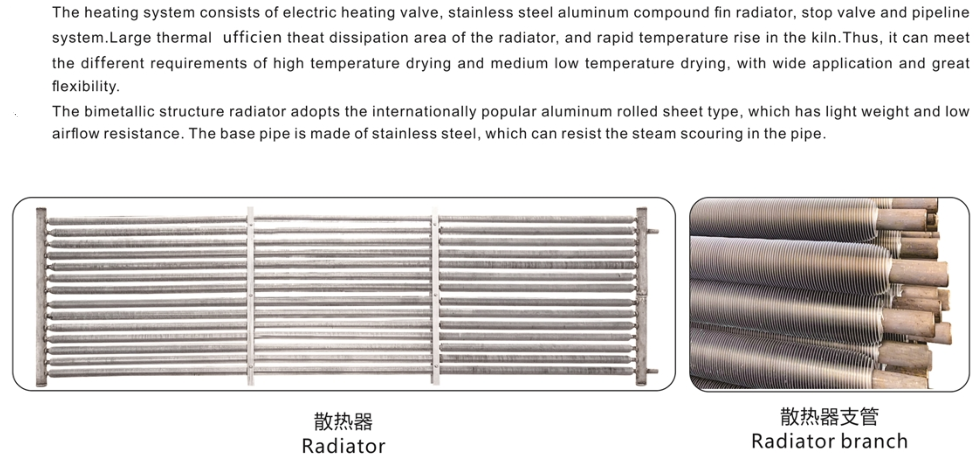 Spray System
The spray system is composed of spraying valve, high-pressure pump, stainless steel spray pipe.
The spray pipe is made by stainless steel so that the carbon steel pipe's drawbacks of heavy corrosion and short service life can be effectively avoided.
Air Circulating System
The optimum model of kiln is adopted with circulating fans located on the upper side of the kiln. The fan is aluminum molded with big air volume and high efficiency. The electrical power for a single fan is only 3.0Kw so that the energy consuming and the drying cost can be substantially lowered.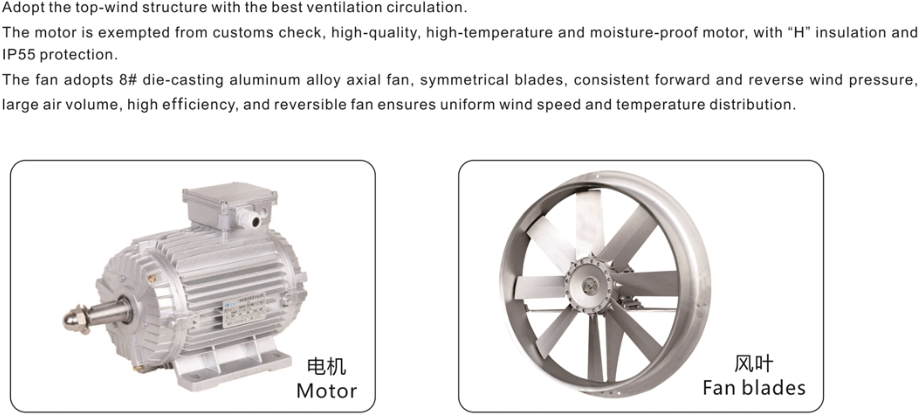 Patent and Certificate: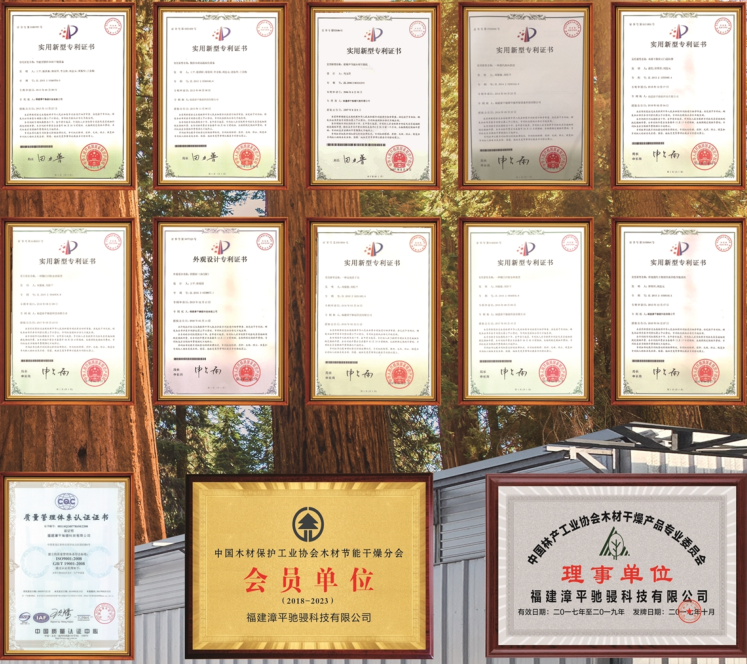 Cooperation Case: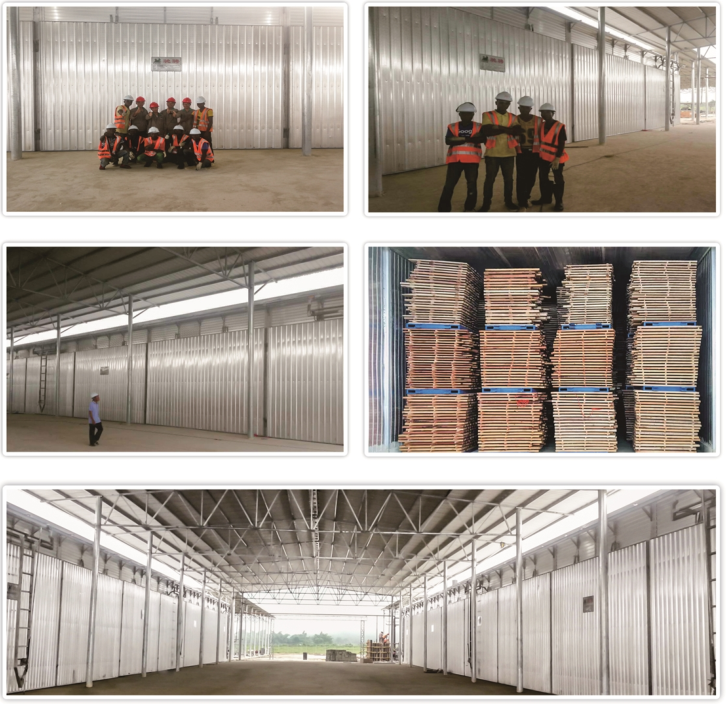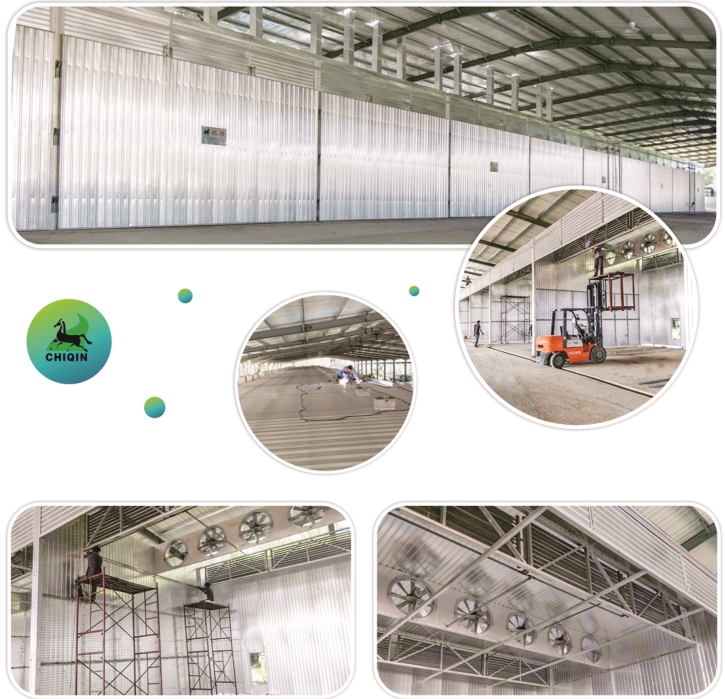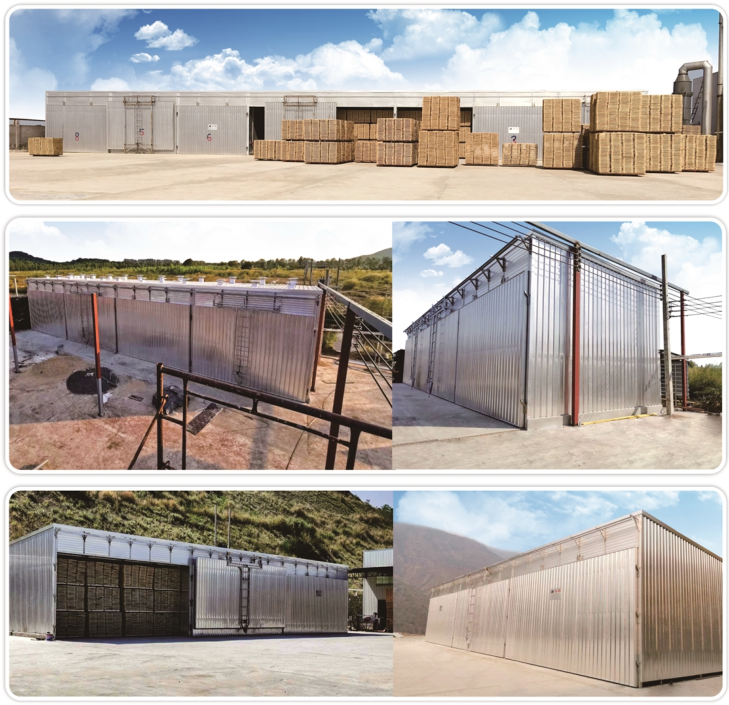 Most commercial timber can be dried as designed, such as as ash, pine, larch, birch, beech, elm, maple, oak or high moisture content wood. Users of wood drying kilns include housing constructions, furniture manufacturers, decking and flooring manufacturers, and other woodworking factories and companies for solid cloth hanger, wood photo frames.
...more